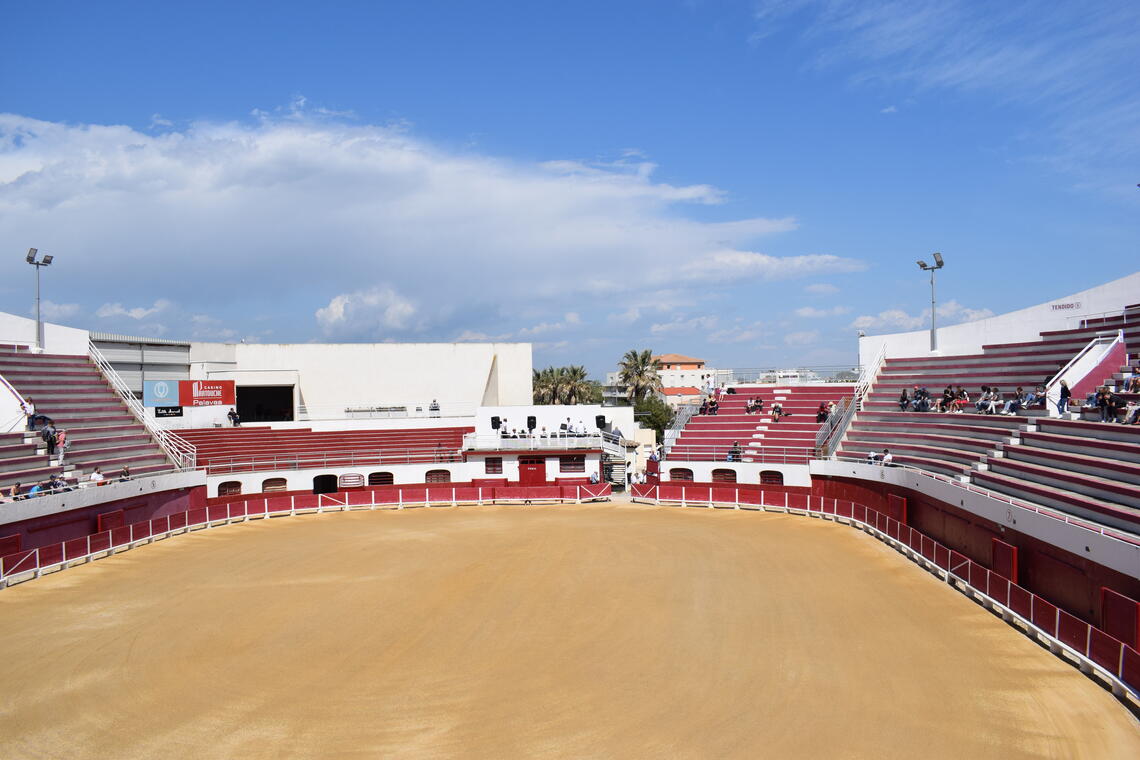 ARÈNES EL CORDOBES
Concert hall,
Performance hall,
Theater
in Palavas-les-Flots
Because the arena is classed as "traditional", Palavas has been able to revive a style of bullfighting that dates from the beginning of the century.
This long tradition means it can organise "corridas".
A Camargue bullfight showcases the fighting skills of a specially bred Camargue bull, but the bull is never killed in the arena.
The famous "toro-piscine" (bull swimming pool) is a great favourite among holidaymakers.
From

January 1, 2022




until

June 30, 2022

From

July 1, 2022




until

August 31, 2022

From

September 1, 2022




until

December 31, 2022
Monday

10:00 AM - 1:00 PM

3:00 PM - 6:00 PM

Tuesday

10:00 AM - 1:00 PM

3:00 PM - 6:00 PM

Wednesday

10:00 AM - 1:00 PM

3:00 PM - 6:00 PM

Thursday

10:00 AM - 1:00 PM

3:00 PM - 6:00 PM

Friday

10:00 AM - 1:00 PM

3:00 PM - 6:00 PM
Monday

10:00 AM - 1:00 PM

4:00 PM - 10:00 PM

Tuesday

10:00 AM - 1:00 PM

4:00 PM - 10:00 PM

Wednesday

10:00 AM - 1:00 PM

4:00 PM - 10:00 PM

Thursday

10:00 AM - 1:00 PM

4:00 PM - 10:00 PM

Friday

10:00 AM - 1:00 PM

4:00 PM - 10:00 PM

Saturday

10:00 AM - 1:00 PM

4:00 PM - 10:00 PM

Sunday

10:00 AM - 1:00 PM

4:00 PM - 10:00 PM
Monday

10:00 AM - 1:00 PM

3:00 PM - 6:00 PM

Tuesday

10:00 AM - 1:00 PM

3:00 PM - 6:00 PM

Wednesday

10:00 AM - 1:00 PM

3:00 PM - 6:00 PM

Thursday

10:00 AM - 1:00 PM

3:00 PM - 6:00 PM

Friday

10:00 AM - 1:00 PM

3:00 PM - 6:00 PM